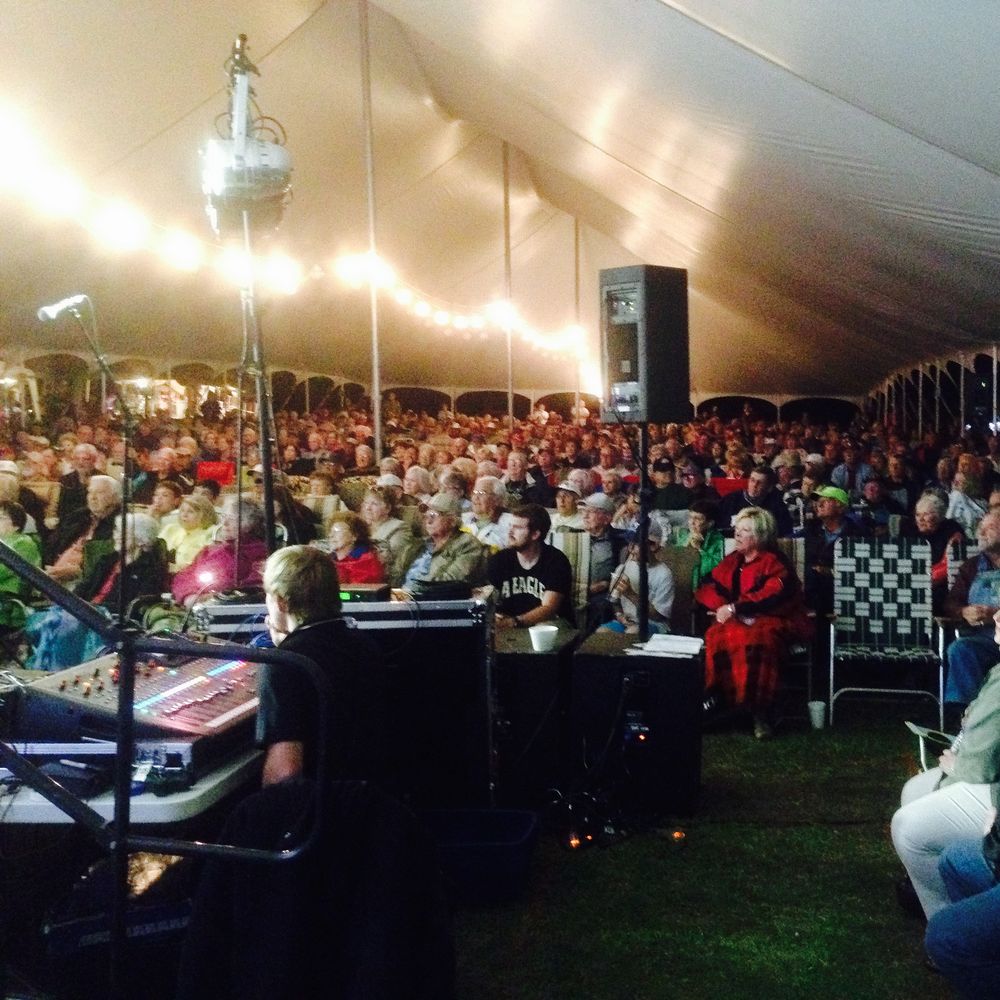 THE TENT IS STILL A MAINSTAY AT OUR NEW GROUNDS
RULES AND REGULATIONS
GOLF CARTS ALLOWED IN ALLOCATED LOCATIONS
WE CAN REFUSE ANYONE ENTRY
ALL SALES ARE FINAL, NO REFUNDS
NO HIGH BACK, ROCKING, OR LOUNGE CHAIRS
MAX SIZE: 39" HIGH 26" WIDE
NO LOUNGING CHAIRS
NO BEER OR LIQOUR UNDER TENT
NO ANIMALS UNDER TENT
(SERVICE ANIMALS WITH MARKED COLLARS, VEST, LEASH & PROPER  TRAINING PERMITTED ONLY FOR PHYSICAL SUPPORT )
Georgia Laws on Service Dogs and Emotional Support Animals 
NO SMOKING UNDER TENT
The Big Question: When can I put out my chair???
FOR 3 DAY TICKET HOLDERS ONLY
WEDNESDAY- May  2,2024
Check In and Chair Placement will be at 2pm on Wed.
Line will start at Front Gate. (No number system this year) 
You will need to be Checked In, Processed with Weekend Armband to place chair.
CHAIR PLACEMENT WILL BEGIN AT 2:00PM
ANY CHAIRS PLACED BEFORE THIS TIME WILL BE REMOVED!!! STRICTLY ENFORCED
SERVICE DOG RULES FOR THE STATE OF GEORGIA        Ga. Code Ann., § 16-11-107.1
What Counts as a Service Animal in Georgia? 
Under Georgia law, those who are blind or have a visual disability, are deaf, or have another physical disability may bring a guide dog or service dog into public accommodations. The dog must have been trained specially to provide assistance by a school for seeing-eye, hearing, service, or guide dogs. The law defines a physical disability as a physiological deficiency or defect that renders the person unable to move around without aid, or limits the ability to walk, climb, ascend, sit, rise, or perform related functions. Note that this definition doesn't include mental, developmental, or intellectual disabilities. Therefore, psychiatric service animals are likely not covered by the law, unless they assist someone who also has a disability that creates the mobility or sensory restrictions discussed above. 
The ADA defines a service animal as a dog that is individually trained to perform tasks or do work for the benefit of a person with a physical or mental disability. (In some cases, a miniature horse may also qualify as a service animal under the ADA.) The tasks or work the animal does must be directly related to the person's disability. 
Neither law covers ordinary pets or what some call "emotional support animals": animals that provide a sense of safety, companionship, and comfort to those with psychiatric or emotional disabilities or conditions. Although these animals often have therapeutic benefits, they are not individually trained to perform specific tasks for their handlers. Under the ADA and Georgia law, owners of public accommodations are not required to allow emotional support animals, only service animals.